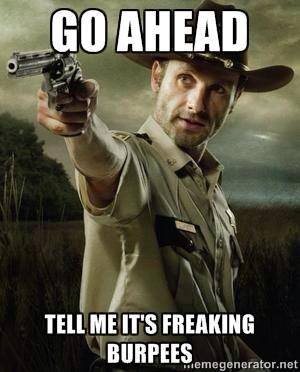 We are delighted to announce that Second City CrossFit will be hosting The Trinity Games on Saturday 13th of June.
This will be a same sex pairs event and will feature teams from SCCF, CrossFit Blackfriars and Unit 22 CrossFit.
There will be two divisions (Rx'd and scaled) and EVERY teams will compete all events on the day.
To do Rx'd you will need to be able to do double unders, pull ups and clean and jerk 70/45kg.
Entry is £45 per team.
Each box has been allocated only 20 team spots and we will be opening registration in the next few days!
In other news, Open WOD 15.3 gets released in a few hours (gulp) so to get you in the mood here's the latest update shows, enjoy!
http://games.crossfit.com/video/crossfit-games-update-march-10-2015

http://games.crossfit.com/video/crossfit-games-update-march-11-2015
1)
Slow clean & jerk
Heavy single
2)
5x1 @90%
3)
Clean first pull x3
4)
100 Russian swings
Stay Classy CrossFitters
Fergus